If it's a lazy, uncooperative co-worker, you might just yell, "Good riddance!" and let the person walk out of the building without any sense of loss. But there exist some co-workers whom you have spent a lot of time with through the ups and downs, and so making their last day an extremely memorable one is a must. If a giant farewell card is not enough, you can add a little more twist to the occasion to make the other person feel grand.
Prepare a custom-made poster.
Go online and you'll find LOTS of custom-made farewell prints that come in different sizes. The words will come from you and the rest of the team, so find some great adjectives to describe the person leaving. You can also include mannerisms and common phrases. The person's new job title will also be a great thing to add. Just make sure to plan early so you can give this exactly on your co-worker's last day.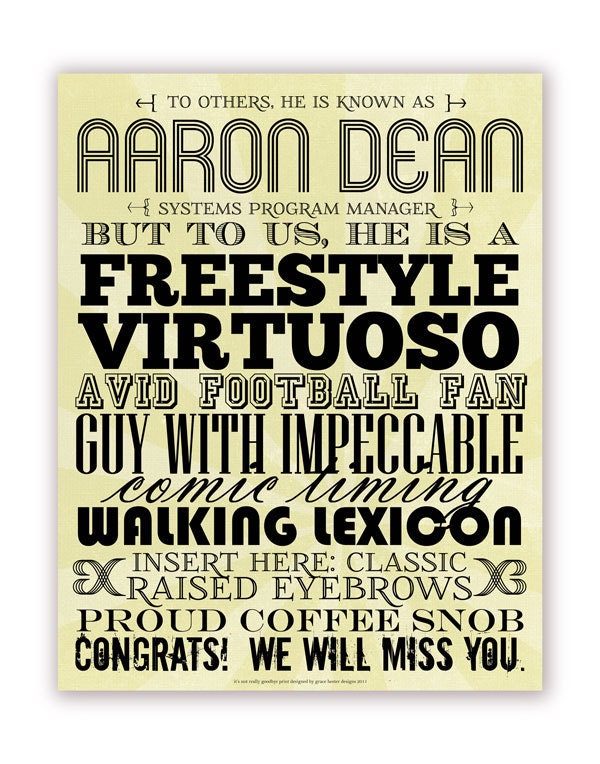 Sign a card and frame it.
A simple Hallmark card will be boring, so have it framed! And you won't need to buy a card, just some creativity will do. Just like the custom-made poster, you will still need to prepare this ahead so everyone can sign their farewell message and to give you extra time to have it framed. Finally, add some artwork and a quote to your masterpiece.
Plan the best leaving party ever.
This is a fantastic opportunity to highlight the departing co-worker's efforts at work and as a team member. Schedule the party ahead and make sure that work has been handed over a day early so there won't be anything to disrupt the party. One way to spice up the party is to have everyone in the team email you one thing they remember about their co-worker. During the party, read each statement aloud and ask him or her to guess who wrote it. It's a fun way to relive office memories.

Have farewell party games.
Farewell parties can't be sad; they are supposed to be a celebration for your co-worker's new chapter in life. So arrange games to honor the person leaving as a gesture of appreciation. This
Buzzle article
lists a dozen of game ideas to bring out camaraderie between the team members, as well as a great reminder of what he or she will be missing!
This article is provided by Andrea from Corporate Office Interiors, the best and most affordable way to shop for office furniture.